7 Steps for SEO Competitive Analysis & Research To Battle Your SEO Enemies
You can be a good SEO expert only when you find out your exact compactor. Which is the top of the search result of your selected keyword or who is going very well in the keywords you have targeted etc? Then you will see their websites going forward from your website in some way or how they are SEO, through which they are getting visitors. How much their backlink amount etc. Knowing these things, your competitors will be analyzed and you can take the next steps correctly.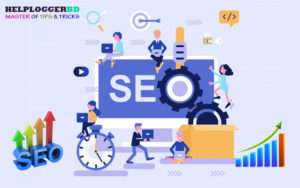 SEO Competitive Analysis & Research
1. Find out who your competitor
You will not be able to analyze the competitors till you know exactly who your competitors are. Finding a Competitor is an easy way for offline business, however, it is often difficult for SEO to find a competitor in the online field. Because you do not know how your competitors are competing with you. They may be working the same thing with your competitors, or someone is competing with you through a Long Tail Keyword. For that, you search Google with your targeted keywords and see who is at the top level of search results. They started working with them.
2. Visit the competitor's site
After listing competitors' sites, your job is to visit those sites. In this case, you will have to see how their site has been created, in what time their site is loaded. After that, you will see how much content is available, how the quality of content, how many keywords have given greater importance, etc. The content should be of the utmost importance. Through a website analysis, you can find out how strong your competitors are, how much of their presence in the web world To compete with them, how much you have to be strong, how much you have to invest, etc.
3. Keyword Analysis:
A keyword is the most important factor in SEO success. If your competitors can optimize the keywords well then the probability of website rank increases. So you have to know which keywords they target. It is a little hard to know which keywords they have targeted. Because the keywords that you think are the top of your title, but it does not seem to have him. If you do not know what keywords they are working on, if you work only with keyword ideas, then it will not be of any use to you.
You can use different paid tools to find out exactly which keywords are working on a keyword. Paid tools will give you a lot of information that can easily be understood by a keyword ranking of a keyword. For this, you can use Spyfu, SEMrush etc. The paid tool. These tools will give you the most important information about your competitors, some of which are the primary keyword or Long Tail Keyword website ranking.
4. Check the competitor's backlinks
Another way to understand competitors' positions is their backlinks. It is understood through the backlink that the main method of ranking is. That's why your competitors will have to analyze the backlinks well. See how many backlinks they have, which websites have preferred for backlinks, used an anchor text, where the backlinks were created. Then you can properly understand how strong they are from you. They also get a good idea of backlinks to your own website through their backlink analysis. If they backlinks to popular sites, then you also have to do it.
There are many popular paid and free tools for backlink analysis. Going to Smallseotools.com, you can see many backlinks from your competitors and use them for payment Ahrefs.com or majestic.com. These two tools are many popular tools. Through these tools, you can see a lot of information, including the number of competing bills, in some domains.
5. Analyze Factors:
In addition to keywords, there are many other important ranking factors. That ranking factor should be considered and analyzed well. You should see how many pages of their website are indexed, how they are working in other search engines etc. If you need to look at Google's main ranking factor. According to those factors, analyze your competitors' website.
6. Analysis of the presence of the participants in social media
Social media is a search engine that is a very important factor for ranking. Before ranking a website, Google will see how your competitors are in social media. You have to consider whether they are targeting any social media, they are targetting in any social media or they are getting more visitors from any social media or know.
7. Are they using PPC
In order to analyze competitors, one must know, whether your competitors are using paid add or PPC. PPC brings direct visitors to a website that works very fast. Google is an ideal website that can easily be brought to a very profitable or profitable visitor. So see if your competitors are Paid Marketing or PPC. If they make paid marketing then you too.