25 Important Blogging Tips for Beginners
Blogging is a career that allows you to create income routes in different ways. It is possible to earn income through a blog, sell Google AdSense, service sales, local company add, backlink sales etc. Those who want to make their own online career can start with blogging. Today's article will be for complete new bloggers who can not understand how to start or start blogging but do not know what to do to make a blog popular.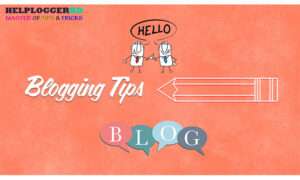 Blogging Tips for  Beginners
1. Keep a name that can be easily remembered. An interesting and easy-to-remember name will increase your returning visitor.
2. Hosting is a very important part of blogging. Select a good host so that your site is always live and loading speed will be good. Using bad hosting, visitors to your blog will decrease and affect the rankings. Because Google does not like to have the website down.
3. In blogging, select topics that you like. It takes a long time to get success in blogging. So it is difficult to blogging without having a great topic. The topics that you know and the topics you like to write, share with everyone and blogs about the issues that people accept.
4. Fast response to comments. If you receive a lot of comments on the blog, respond quickly to the comments, then the visitor's relationship with you will be created. As a result, the visitor will come to the website, share it.
5. Build relationships with other bloggers. It is very important to build relationships with other bloggers because it can increase visitors, backlinks can be created, branding opportunities are created.
6. Comment on others blog post. Commenting on other blog posts gives two great benefits. First of all, helping other bloggers get to your blog, and secondly, helps to build relationships with other bloggers.
7. Always try something unique. Creating the same content as everyone else, marketing strategies will not create your brand. So always try something new.
8. Create engaging content. There is no alternative to engaging content.
9. Use the Share button on the blog. The Share button helps you reach your audience with lots of audiences. The visitor will like the content that he would like to spread to others.
10. Use relevant images with articles. The images are easily attracted by visitors and share is more.
11. Share blog content to more social media Share the social media that your targeted visitors have found in social media.
12. Post the visitor's benefit. Then they will share your visitor increase.
13. Find out what is the demand for the market in the market. Then you will be helping to create your content.
14. Keep an eye on the design of your blog. A well-designed blog helps to increase the brand and attracts the visitor.
15. Guest blogging blogs with related blogs or related blogs. This will be the branding of both you and the blog, the visitor will grow and the backlinks will be created.
16. Do not make any mistakes in posting regularly. The most important work of blogging is to post regularly. If you post regularly, the visitor will get new and much information so that the visitor will like to come to your blog.
17. Create Ever Green Content Put some content on your blog that is Ever Green This means that the content of the content or visitor is always there. If you create content with SEO, you can write about SEO, Google's updates, etc. Then those articles will always bring your website visitors.
18. Add references to the blog. Your article's value will increase.
19. Answer the question of the regular audience. Visitors to your blog will come up with questions in their minds and will ask you different questions. If they do not get the answer to that question, they will be disappointed. So check the regular comments and reply.
20. Spell check occasionally. It is very important for online marketing. Any strategy is working, what is working, a layout is preferred to the visitor, etc. By knowing this, your website's conversion rate will increase and the bounce rate will decrease.
21. Share your experience. Share your experience in writing content on the blog or writing about yourself. Visitors want to know the real experience and share your experience with various related content so that they believe.
22. Give special importance to writing headlines or titles. The headline is the main tool to attract visitor for a content. So use the words that you want to know to write headlines and visitors who want to know. When the content is shared in social media or ranked in Google then the headline first appears. It has special significance in creating a visitor.
23. Use the call to action in the article, image, or video. Call to action helps the visitor to take the next step. With sales increase, visitors are encouraged to read other articles. So why not create any kind of content, use the call to action on that content.
24 Create content that creates content that will link visitors to your website or blog on your content. The content that will naturally create backlinks.
25. The last tips are not to lose patience. Many people have lost patience while blogging. If you do not succeed in working for a few days, you start doing something else. This work can not be done. Remember it takes time to get success in blogging.