7 Secrets Tips to be Successful in Video Marketing
Arnett on YouTube or promoting your business says that video marketing is an effective medium in both cases. But in the course of video marketing, many make mistakes, which fail them. These mistakes are sometimes neglected and sometimes they are made. But if we are a little aware, then with our planning a little bit of planning, the video marketing becomes successful.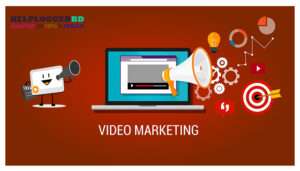 Video Marketing
1. Video made
One of the first and common reasons for the failure of video marketing is video making. That is, making a video for marketing requires a video without any plans or techniques. Do not even worry about whether there will be any impact on branding. In particular, our country's new video marketers quickly create just one video to earn from YouTube and start video marketing with that video. But they do not have any success.
All the things that should be taken into account for making videos
~ What the video is providing information.
~ The quality of the video is very good.
~ What the viewers will see because of the video, it is more prominent.
2. Branding
Many people might say, "Hey, the video was awesome" in a video. But if he does not remember the video or who created this video, then it could be said that the video marketing failed. Therefore, the video that you create should be kept in mind that there should be branding properly. So that viewers can remember your brand for a long time. Then he will become your fan or custom.
For example, Samsung has recently promoted a video, I have seen the video several times myself and shared the link to the video of many of my closest people, so Samsung's branding is going well. See, I shared with you, if you did not know before, now you can search on YouTube, branding again.
3. Do not make long videos
The videos that are made for the promotion of a product or branding are generally good for small videos. So that the customer gets a good idea about you in a short period of time. But if you make a video of a long time, then there is a possibility of the customer getting disturbed.
Many people drag the video into it, your main purpose in this can be out of hand. It can be great if you make another video again without a business, but it is good to have business videos within 3-5 minutes.
4. Add Call to Action
Another failure of video marketing is the reason why no call to Action is added to the video. If you do not add a Call to Action to a video then you can leave your viewers in the middle. She did not say anything about what to do next or how to do it. This may result in customers not coming to you.
Suppose you have created a video for marketing of your new service, the video is designed to show you that you are providing the needs of the people, but in the end, it is necessary to explain whether a brand is doing this or how the service can be found. Again, the idea of Samsung's video will be seen once – https://www.youtube.com/watch?v=779KwjAYTeQ
5. Success and Reality:
Almost all of us have an important thing in the midst of that lack of patience. It must be in the case of marketing. Many freelancers who make video marketing hope for success by creating some videos. Patience is lost if you do not get quick success. He thinks that he will not get success in this sector and does not want to emphasize video marketing.
Or suppose you made a social advertising video for your business and you think this video will be viral but it may not be that your next video could have a very good effect on the market, maybe people got your brand's identity through the first video but That is not the sale, and the next video can be both your branding and sales.
Other companies also made video marketing for a few days but stopped achieving success. As a result, lots of time and money are lost. Patience can not be lost in video marketing because you do not know when your video will start getting popularity.
6. Do not give importance to more than one topic:
A topic should always be emphasized in a video. You can call it a target market video. Videos that are made of video are emphasized only on one subject, such as solving a problem, reviewing a product or marketing a new product or service, etc. They are more likely to succeed.
7. The product or the consumer
Video marketing is one of the easiest means of selling products or services. But many marketers create videos by describing the attributes of the service, by not giving much importance to products or services, rather than aiming at customers' desire or preference to create videos. As a result, video marketing fails. First, you need to know what your customer wants to know from your video. Then make a video based on that demand so that its needs are met and your marketing is also done.